ABOUT ME
Multiplatinum selling singer/producer, award winning songwriter and GRAMMY mentor ATHENA CAGE, born and raised in Russellville, Kentucky is proud of her Southern roots. After garnering worldwide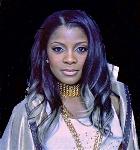 success, she returned home to Kentucky and established a music base in Bowling Green, Kentucky.
With Millions in sales worldwide and appearances on practically every major TV show, including a couch guest appearance on The Tonight Show, Athena is best known for her double platinum debut solo single, "All or Nothing" from the MTV/Paramount Pictures film "Save the Last Dance." She is also know for three number one, multiplatinum charted hits with Keith Sweat entitled, "Nobody," (considered by radio as the duet of the 90's and now an R&B classic) "Get Up On It" and "Twisted." She is also an award winning writer having garnered the coveted BMI's "Pop Song of the Year" Award for co-writing "Twisted."
Her career began as a background singer, working with a wide variety of musical artists including Country star Amy Grant and R&B giants, the Isley Brothers. Moving from Kentucky to Atlanta, Georgia to pursue a music career, Athena auditioned for Sweat's Elektra distributed label and was immediately signed as lead singer of girl group Kut Klose. ATHENA had a chart topping single with the group, the unforgettable R&B classic "I Like."
During a previous GRAMMY week, ATHENA was tapped to perform for the GRAMMY Foundation at the Toys R Us event on Broadway and wowed the audience performing with PBS' cast of "In Between the Lions." ATHENA spends time as a GRAMMY mentor visiting schools around the Nation promoting music education.
Her education thrust took her to Capitol Hill a number of times advocating keeping, restoring or establishing music and arts programs in America's schools pointing out the correlation between excelling in music and excelling academically. In this quest, ATHENA had meetings at the White House and the U.S. Department of Education to share her views; and in what she described as "One of the highlights of my life," met with the late U.S. Senate Education Committee Chair Ted Kennedy. She met also with the author of President Bush's "No Child Left Behind" Susan Sclafani.
In 2003, ATHENA established The Athena Cage Scholarship Fund at her alma mater Western Kentucky University. Through a concert series and special events, ATHENA goal is to endow $100,000. At the first concert Warren County Kentucky Judge Executive Mike Buchanon renamed Basil Griffin Park's amphitheater "The Athena Cage Outdoor Amphitheater." In 2004, ATHENA teamed with legendary music icon Dionne Warwick for a sellout second concert during which Warren Central High School's Shakara Wynn was awarded the first scholarship. In 2005, in a tribute to America's Armed Services, her special guest was renowned actor James McEachin, awarded a Silver Star. ATHENA has $40,000 left to raise to complete her endowment.
Just after 9-11, ATHENA joined in the chorus of accolades for police and fire personnel. "But I noticed that the heroism and daily sacrifces of the men and women of our Armed Services who protect our freedoms was not receiving the attention I believed it deserved," noted ATHENA.
So within weeks of the attack, ATHENA organized and spent two days with the famed Screaming Eagles (101st Airborne Division) at Fort Campbell. She rappelled the Rangers Wall, visited the on-Fort schools, lunched with the troops, observed training and performed a free concert to let them know America appreciates what they do. Commanding General Cody awarded Athena the "Screaming Eagles Award."
An avid sports fan, ATHENA was tapped by the Washington Redskins to perform at an Eagles/Redskins Monday Night Football battle, by the Baltimore Orioles to perform at its season opener against the New York Yankees, and by the Washington Wizards in a nationally televised game against the Dallas Mavericks during Michael Jordan's last season (Jordan is one of her favorite athletes).
But nothing is more important to ATHENA than uplifting young people. In addition to GRAMMY mentoring, ATHENA adopted the Delafield Community Center in Bowling Green, KY, a community program for disadvantaged kids, where she has taken them bowling, to the movies, and co-hosted a Thanksgiving dinner for the 60 plus kids and their families at TGI Fridays. And she has hosted Christmas Parties for disadvantaged kids that are supported by Toys R Us, Coca Cola, McDonald's, Best Buy, Papa John's, Roy's Bar BQ, KFC, Pizza Hut and Wal-Mart.
In 2006, the Kentucky Music Hall of Fame & Museum in Renfro Valley, Kentucky opened an exhibit on ATHENA's music and career and ATHENA performed at the February 23 induction ceremony. Athena accepted on behalf of Jazz Great Lionel Hampton prior to her performance. For information: Kentucky Music Hall of Fame & Museum.
It's no wonder Governor Ernie Fletcher commissioned ATHENA a "Kentucky Colonel" the Commonwealth of Kentucky's highest award putting ATHENA in such sterling company as Prime Minister Winston Churchill, Astronaut and Senator John Glenn, golfing great Tiger Woods, actress Ann-Margaret and "The Greatest" Muhammad Ali. And it should come as no surprise that the City of Russellville, KY renamed the street she grew up on "Athena Cage Way."